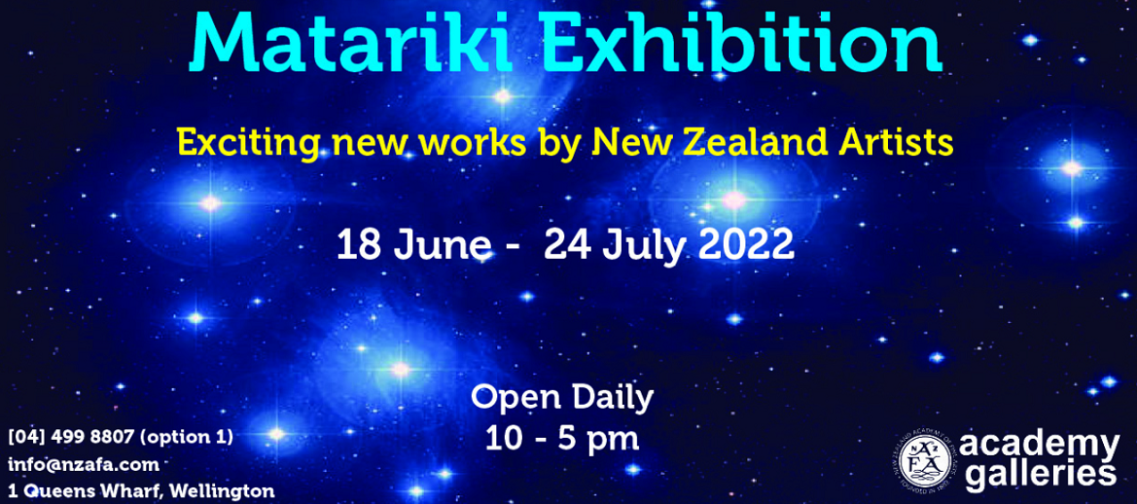 EXHIBITION: Matariki 2022
View all Dates
Sat 18 Jun 2022, 10:00 am - 5:00pm
Academy Galleries
1 Queens Wharf
Wellington
Sun 19 Jun 2022, 10:00 am - 5:00pm
Academy Galleries
1 Queens Wharf
Wellington
Mon 20 Jun 2022, 10:00 am - 5:00pm
Academy Galleries
1 Queens Wharf
Wellington
Tue 21 Jun 2022, 10:00 am - 5:00pm
Academy Galleries
1 Queens Wharf
Wellington
Wed 22 Jun 2022, 10:00 am - 5:00pm
Academy Galleries
1 Queens Wharf
Wellington
Thu 23 Jun 2022, 10:00 am - 5:00pm
Academy Galleries
1 Queens Wharf
Wellington
Fri 24 Jun 2022, 10:00 am - 5:00pm
Academy Galleries
1 Queens Wharf
Wellington
Sat 25 Jun 2022, 10:00 am - 5:00pm
Academy Galleries
1 Queens Wharf
Wellington
Sun 26 Jun 2022, 10:00 am - 5:00pm
Academy Galleries
1 Queens Wharf
Wellington
Mon 27 Jun 2022, 10:00 am - 5:00pm
Academy Galleries
1 Queens Wharf
Wellington
Tue 28 Jun 2022, 10:00 am - 5:00pm
Academy Galleries
1 Queens Wharf
Wellington
Wed 29 Jun 2022, 10:00 am - 5:00pm
Academy Galleries
1 Queens Wharf
Wellington
Thu 30 Jun 2022, 10:00 am - 5:00pm
Academy Galleries
1 Queens Wharf
Wellington
Fri 1 Jul 2022, 10:00 am - 5:00pm
Academy Galleries
1 Queens Wharf
Wellington
Sat 2 Jul 2022, 10:00 am - 5:00pm
Academy Galleries
1 Queens Wharf
Wellington
Sun 3 Jul 2022, 10:00 am - 5:00pm
Academy Galleries
1 Queens Wharf
Wellington
Mon 4 Jul 2022, 10:00 am - 5:00pm
Academy Galleries
1 Queens Wharf
Wellington
Tue 5 Jul 2022, 10:00 am - 5:00pm
Academy Galleries
1 Queens Wharf
Wellington
Wed 6 Jul 2022, 10:00 am - 5:00pm
Academy Galleries
1 Queens Wharf
Wellington
Thu 7 Jul 2022, 10:00 am - 5:00pm
Academy Galleries
1 Queens Wharf
Wellington
Fri 8 Jul 2022, 10:00 am - 5:00pm
Academy Galleries
1 Queens Wharf
Wellington
Sat 9 Jul 2022, 10:00 am - 5:00pm
Academy Galleries
1 Queens Wharf
Wellington
Sun 10 Jul 2022, 10:00 am - 5:00pm
Academy Galleries
1 Queens Wharf
Wellington
Mon 11 Jul 2022, 10:00 am - 5:00pm
Academy Galleries
1 Queens Wharf
Wellington
Tue 12 Jul 2022, 10:00 am - 5:00pm
Academy Galleries
1 Queens Wharf
Wellington
Wed 13 Jul 2022, 10:00 am - 5:00pm
Academy Galleries
1 Queens Wharf
Wellington
Thu 14 Jul 2022, 10:00 am - 5:00pm
Academy Galleries
1 Queens Wharf
Wellington
Fri 15 Jul 2022, 10:00 am - 5:00pm
Academy Galleries
1 Queens Wharf
Wellington
Sat 16 Jul 2022, 10:00 am - 5:00pm
Academy Galleries
1 Queens Wharf
Wellington
Sun 17 Jul 2022, 10:00 am - 5:00pm
Academy Galleries
1 Queens Wharf
Wellington
Mon 18 Jul 2022, 10:00 am - 5:00pm
Academy Galleries
1 Queens Wharf
Wellington
Tue 19 Jul 2022, 10:00 am - 5:00pm
Academy Galleries
1 Queens Wharf
Wellington
Wed 20 Jul 2022, 10:00 am - 5:00pm
Academy Galleries
1 Queens Wharf
Wellington
Thu 21 Jul 2022, 10:00 am - 5:00pm
Academy Galleries
1 Queens Wharf
Wellington
Fri 22 Jul 2022, 10:00 am - 5:00pm
Academy Galleries
1 Queens Wharf
Wellington
Sat 23 Jul 2022, 10:00 am - 5:00pm
Academy Galleries
1 Queens Wharf
Wellington
Sun 24 Jul 2022, 10:00 am - 5:00pm
Academy Galleries
1 Queens Wharf
Wellington
Exhibitions, Visual Arts, Arts Culture, Free Entry Event, Drawing, Painting
Wheelchair Access, Accessible Toilets
Exciting new work by New Zealand artists.
I would like to acknowledge Rebecca Mooney and Emily Harris who again helped curate this members show.
As always this exhibition has involved a large team of people – Thank you all for your hard work.
Special thanks to Gordon Harris, the Art & Graphic Store, for their generous donation for the Gordon Harris Award.
Rob Sullivan
Exhibitions
June 2022
To view an online copy of the Matariki Exhibition catalogue, please click here.