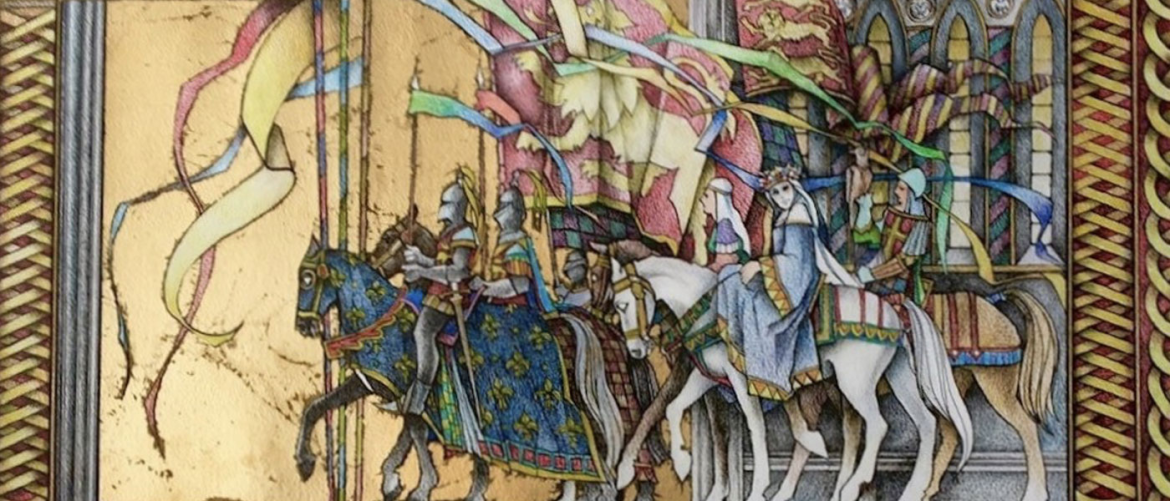 EXHIBITION 2023: Coronation Celebration 2023
View all Dates
Fri 21 Apr 2023, 10:00 am - 5:00pm
Academy Galleries
1 Queens Wharf
Wellington
Sat 22 Apr 2023, 10:00 am - 5:00pm
Academy Galleries
1 Queens Wharf
Wellington
Sun 23 Apr 2023, 10:00 am - 5:00pm
Academy Galleries
1 Queens Wharf
Wellington
Mon 24 Apr 2023, 10:00 am - 5:00pm
Academy Galleries
1 Queens Wharf
Wellington
Tue 25 Apr 2023, 10:00 am - 5:00pm
Academy Galleries
1 Queens Wharf
Wellington
Wed 26 Apr 2023, 10:00 am - 5:00pm
Academy Galleries
1 Queens Wharf
Wellington
Thu 27 Apr 2023, 10:00 am - 5:00pm
Academy Galleries
1 Queens Wharf
Wellington
Fri 28 Apr 2023, 10:00 am - 5:00pm
Academy Galleries
1 Queens Wharf
Wellington
Sat 29 Apr 2023, 10:00 am - 5:00pm
Academy Galleries
1 Queens Wharf
Wellington
Sun 30 Apr 2023, 10:00 am - 5:00pm
Academy Galleries
1 Queens Wharf
Wellington
Mon 1 May 2023, 10:00 am - 5:00pm
Academy Galleries
1 Queens Wharf
Wellington
Tue 2 May 2023, 10:00 am - 5:00pm
Academy Galleries
1 Queens Wharf
Wellington
Wed 3 May 2023, 10:00 am - 5:00pm
Academy Galleries
1 Queens Wharf
Wellington
Thu 4 May 2023, 10:00 am - 5:00pm
Academy Galleries
1 Queens Wharf
Wellington
Fri 5 May 2023, 10:00 am - 5:00pm
Academy Galleries
1 Queens Wharf
Wellington
Sat 6 May 2023, 10:00 am - 5:00pm
Academy Galleries
1 Queens Wharf
Wellington
Sun 7 May 2023, 10:00 am - 5:00pm
Academy Galleries
1 Queens Wharf
Wellington
Mon 8 May 2023, 10:00 am - 5:00pm
Academy Galleries
1 Queens Wharf
Wellington
Tue 9 May 2023, 10:00 am - 5:00pm
Academy Galleries
1 Queens Wharf
Wellington
Wed 10 May 2023, 10:00 am - 5:00pm
Academy Galleries
1 Queens Wharf
Wellington
Thu 11 May 2023, 10:00 am - 5:00pm
Academy Galleries
1 Queens Wharf
Wellington
Fri 12 May 2023, 10:00 am - 5:00pm
Academy Galleries
1 Queens Wharf
Wellington
Sat 13 May 2023, 10:00 am - 5:00pm
Academy Galleries
1 Queens Wharf
Wellington
Sun 14 May 2023, 10:00 am - 5:00pm
Academy Galleries
1 Queens Wharf
Wellington
Mon 15 May 2023, 10:00 am - 5:00pm
Academy Galleries
1 Queens Wharf
Wellington
Tue 16 May 2023, 10:00 am - 5:00pm
Academy Galleries
1 Queens Wharf
Wellington
Wed 17 May 2023, 10:00 am - 5:00pm
Academy Galleries
1 Queens Wharf
Wellington
Thu 18 May 2023, 10:00 am - 5:00pm
Academy Galleries
1 Queens Wharf
Wellington
Fri 19 May 2023, 10:00 am - 5:00pm
Academy Galleries
1 Queens Wharf
Wellington
Sat 20 May 2023, 10:00 am - 5:00pm
Academy Galleries
1 Queens Wharf
Wellington
Sun 21 May 2023, 10:00 am - 5:00pm
Academy Galleries
1 Queens Wharf
Wellington
Wheelchair Access, Accessible Toilets
21 April – 21 May 2023
On May 6 2023 King Charles III will be crowned. The Academy has invited artists to submit fine artworks for this special exhibition to mark the Coronation and continue a long tradition of artists commemorating moments in history.
To mark Charles III's naval career, and his rank of Admiral of the Fleet of the Royal New Zealand Navy, the Academy has invited the RNZN to display artworks of 'His Majesty's New Zealand Ships'. Paintings by the official RNZN artist LTCDR Colin Wynn include HMNZS Wellington during a voyage to Antarctica and HMNZS Monowai's dramatic rescue during the 1994 Auckland to Tonga race.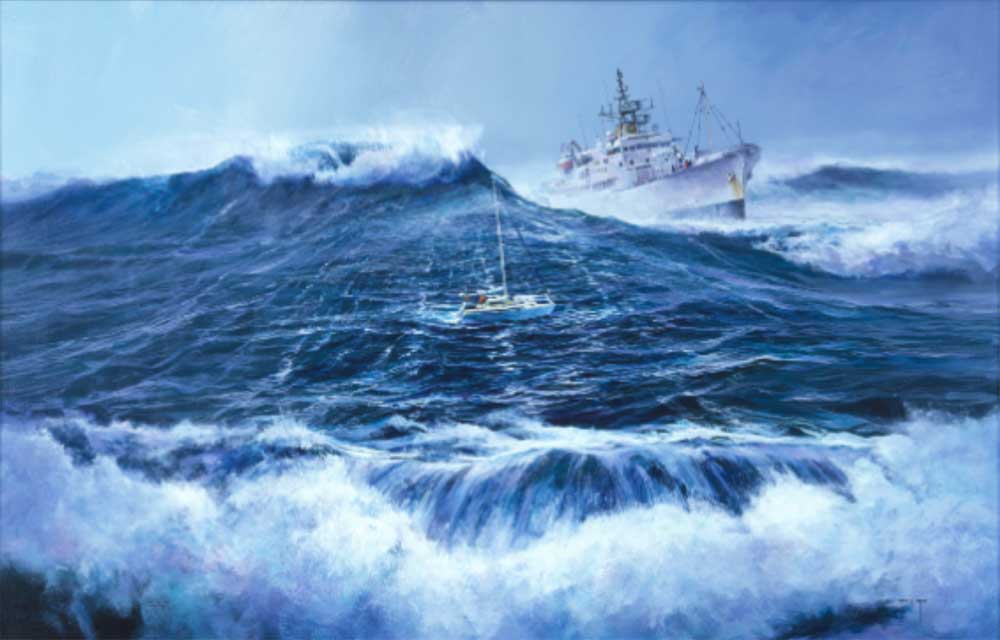 Monowai Rescue by Colin Wynn
Featured artists at this exhibition are Fellow of the New Zealand Academy of Fine Arts Philip Markham and Academy Life Member Jenny Shearer. Philip Markham's series of medieval, heraldry-inspired illuminations are set in the sumptuous, previous, Carolean era of Charles II. His works are resplendent in gold and silver, with kings on thrones, women in their finery and pennants billowing in the wind. Jenny Shearer's collection of ceramics for royal occasions includes goblets, platters, jugs, banquet bowls, Maids of Honour candlesticks and King and Queen teapots. The exhibition includes artworks of 68 practising artist members of the Academy of Fine Arts. These are exciting new works in all media.

Take me to the Fair by Philip Markham FNZAFA

Charles II R by Philip Markham FNZAFA

Goblets by Jenny Shearer
Formal opening
The Opening will be held on Thursday April 20 2023 from 6pm-8pm. It will be a formal event opened by The Right Hon. Dame Patsy Reddy GNZM CVO QSO DStJ. Guests will join Dame Patsy in toasting the King. There will be musical entertainment. Guests will be asked to wear evening attire (black tie or suit for men) and medals may be worn.
Tickets are $40 (admits 2) as a fundraiser for the Academy, available at the Academy Galleries.
Featured artist notes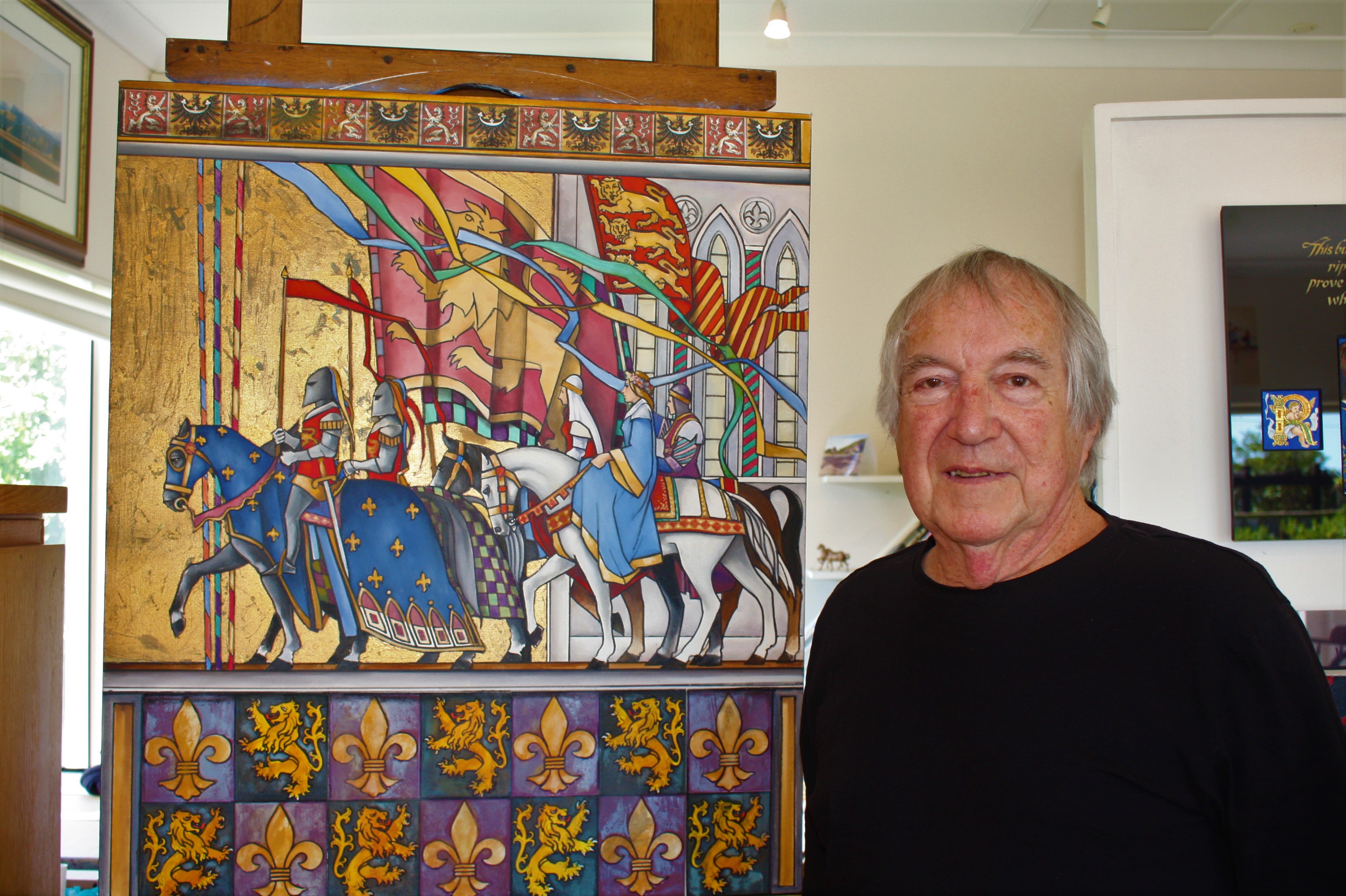 Fellow of the NZAFA Philip Markham with his work "Take me to the Fair", one of a series of three heraldic paintings for the 'Coronation Celebration' exhibition. Philip is known for his warm earthy-toned landscapes, brilliant medieval heraldry-inspired illuminations, and exquisite portraits. He is a highly regarded award-winning artist.
Life Member of the NZAFA Jennifer Shearer in her studio with a lustre jug for the 'Coronation Celebration' exhibition. Her ceramics /pottery artworks are refined, different, and mostly usable urban ritual vessels. Jennifer is one of New Zealand's most experienced potters.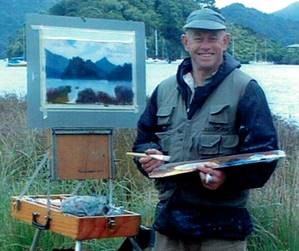 Royal New Zealand Navy Artist LTCDR Colin Wynn became the Royal New Zealand Navy's official artist in 1983. He was well known as one of New Zealand's leading sea and landscape artists. He uses artistic licence in his naval works but also pays considerable attention to detail. Colin works in a variety of media, mainly oil and acrylic but also gouache, water colour or pastel as required by the subject mood or location. To date, Colin has completed over 100 works in his role as Navy artist.
Where to find us:
Hours: Daily 10am - 5pm
Address: 1 Queens Wharf, Wellington, NZ
Postal Address: PO Box 25482, Wellington 6140
Phone: 04 499 8807
Email: info@nzafa.com