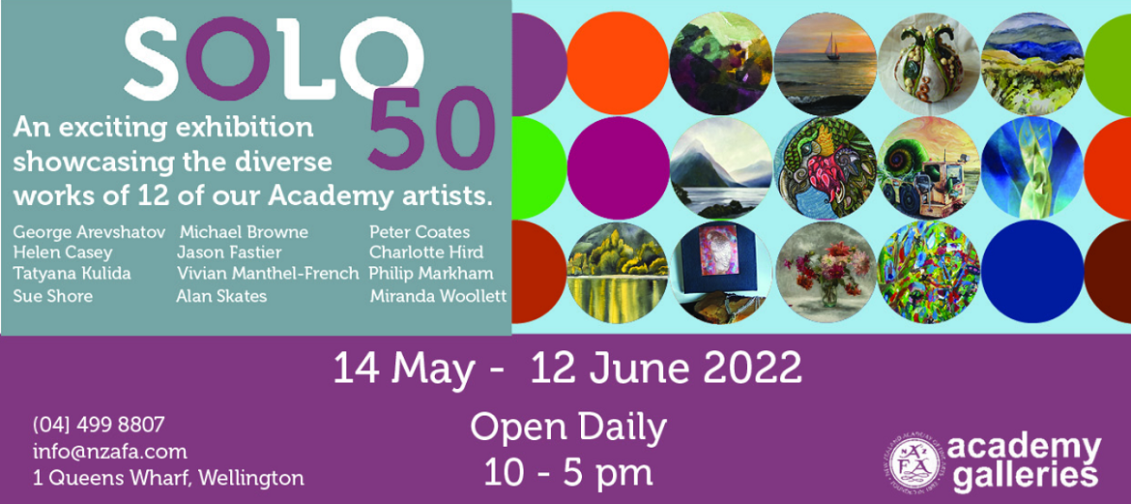 EXHIBITION: Solo 50
View all Dates
Sat 14 May 2022, 10:00 am - 5:00pm
Academy Galleries
1 Queens Wharf
Wellington
Sun 15 May 2022, 10:00 am - 5:00pm
Academy Galleries
1 Queens Wharf
Wellington
Mon 16 May 2022, 10:00 am - 5:00pm
Academy Galleries
1 Queens Wharf
Wellington
Tue 17 May 2022, 10:00 am - 5:00pm
Academy Galleries
1 Queens Wharf
Wellington
Wed 18 May 2022, 10:00 am - 5:00pm
Academy Galleries
1 Queens Wharf
Wellington
Thu 19 May 2022, 10:00 am - 5:00pm
Academy Galleries
1 Queens Wharf
Wellington
Fri 20 May 2022, 10:00 am - 5:00pm
Academy Galleries
1 Queens Wharf
Wellington
Sat 21 May 2022, 10:00 am - 5:00pm
Academy Galleries
1 Queens Wharf
Wellington
Sun 22 May 2022, 10:00 am - 5:00pm
Academy Galleries
1 Queens Wharf
Wellington
Mon 23 May 2022, 10:00 am - 5:00pm
Academy Galleries
1 Queens Wharf
Wellington
Tue 24 May 2022, 10:00 am - 5:00pm
Academy Galleries
1 Queens Wharf
Wellington
Wed 25 May 2022, 10:00 am - 5:00pm
Academy Galleries
1 Queens Wharf
Wellington
Thu 26 May 2022, 10:00 am - 5:00pm
Academy Galleries
1 Queens Wharf
Wellington
Fri 27 May 2022, 10:00 am - 5:00pm
Academy Galleries
1 Queens Wharf
Wellington
Sat 28 May 2022, 10:00 am - 5:00pm
Academy Galleries
1 Queens Wharf
Wellington
Sun 29 May 2022, 10:00 am - 5:00pm
Academy Galleries
1 Queens Wharf
Wellington
Mon 30 May 2022, 10:00 am - 5:00pm
Academy Galleries
1 Queens Wharf
Wellington
Tue 31 May 2022, 10:00 am - 5:00pm
Academy Galleries
1 Queens Wharf
Wellington
Wed 1 Jun 2022, 10:00 am - 5:00pm
Academy Galleries
1 Queens Wharf
Wellington
Thu 2 Jun 2022, 10:00 am - 5:00pm
Academy Galleries
1 Queens Wharf
Wellington
Fri 3 Jun 2022, 10:00 am - 5:00pm
Academy Galleries
1 Queens Wharf
Wellington
Sat 4 Jun 2022, 10:00 am - 5:00pm
Academy Galleries
1 Queens Wharf
Wellington
Sun 5 Jun 2022, 10:00 am - 5:00pm
Academy Galleries
1 Queens Wharf
Wellington
Mon 6 Jun 2022, 10:00 am - 5:00pm
Academy Galleries
1 Queens Wharf
Wellington
Tue 7 Jun 2022, 10:00 am - 5:00pm
Academy Galleries
1 Queens Wharf
Wellington
Wed 8 Jun 2022, 10:00 am - 5:00pm
Academy Galleries
1 Queens Wharf
Wellington
Thu 9 Jun 2022, 10:00 am - 5:00pm
Academy Galleries
1 Queens Wharf
Wellington
Fri 10 Jun 2022, 10:00 am - 5:00pm
Academy Galleries
1 Queens Wharf
Wellington
Sat 11 Jun 2022, 10:00 am - 5:00pm
Academy Galleries
1 Queens Wharf
Wellington
Sun 12 Jun 2022, 10:00 am - 5:00pm
Academy Galleries
1 Queens Wharf
Wellington
Wheelchair Access, Accessible Toilets
This year the NZ Academy of Fine Arts has reached a milestone - the 50th 'SOLO' show since our first 'Going Solo' in 1993. SOLO 50 shows the works of 12 selected artists.
To make this special anniversary exhibition something special, we have included a couple of special features. Included are two of the original participants in the very first 'Going Solo' in 1993, well known artists Vivian Manthel-French and Peter Coates. Peter and Vivian have recently painted together - a lovely sunny day in Peter's garden. The results of this weekend are showcased in the gallery - the process from a sketch, to a black and white proof and the final finished work.
We're also very pleased to have works by two other highly respected artists, both Fellows of the Academy and recipients of the Governor-General Art Award, Philip Markham (2000) and Michael Browne (2017).
The Solo concept has traditionally been a mechanism to showcase established and emerging artists, as well as special invited guests. Completing the line up are George Arevshatov, Helen Casey, Jason Fastier, Charlotte Hird, Tatyana Kulida, Sue Shore, Alan Skates, and Miranda Woollett.As always this exhibition has involved a large team of people – my special thanks to the Exhibitions team. Thank you all for your hard work.
Rob Sullivan
Exhibitions.
To view an online copy of the Solo 50 Exhibition catalogue, please click here.