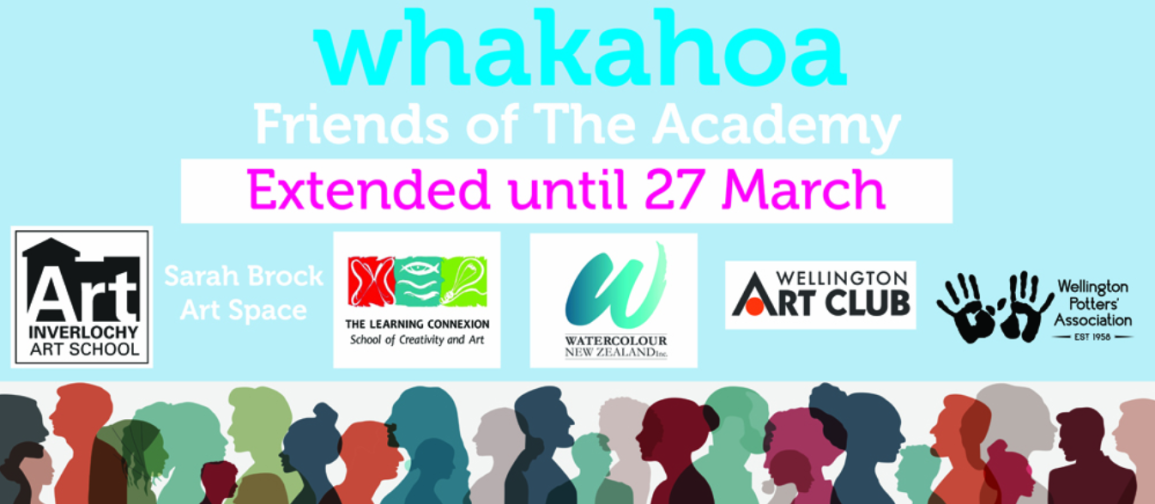 EXHIBITION: Whakahoa - Friends of the Academy
View all Dates
Mon 28 Feb 2022, 10:00 am - 5:00pm
Academy Galleries
1 Queens Wharf
Wellington
Tue 1 Mar 2022, 10:00 am - 5:00pm
Academy Galleries
1 Queens Wharf
Wellington
Wed 2 Mar 2022, 10:00 am - 5:00pm
Academy Galleries
1 Queens Wharf
Wellington
Thu 3 Mar 2022, 10:00 am - 5:00pm
Academy Galleries
1 Queens Wharf
Wellington
Fri 4 Mar 2022, 10:00 am - 5:00pm
Academy Galleries
1 Queens Wharf
Wellington
Sat 5 Mar 2022, 10:00 am - 5:00pm
Academy Galleries
1 Queens Wharf
Wellington
Sun 6 Mar 2022, 10:00 am - 5:00pm
Academy Galleries
1 Queens Wharf
Wellington
Mon 7 Mar 2022, 10:00 am - 5:00pm
Academy Galleries
1 Queens Wharf
Wellington
Tue 8 Mar 2022, 10:00 am - 5:00pm
Academy Galleries
1 Queens Wharf
Wellington
Wed 9 Mar 2022, 10:00 am - 5:00pm
Academy Galleries
1 Queens Wharf
Wellington
Thu 10 Mar 2022, 10:00 am - 5:00pm
Academy Galleries
1 Queens Wharf
Wellington
Fri 11 Mar 2022, 10:00 am - 5:00pm
Academy Galleries
1 Queens Wharf
Wellington
Sat 12 Mar 2022, 10:00 am - 5:00pm
Academy Galleries
1 Queens Wharf
Wellington
Sun 13 Mar 2022, 10:00 am - 5:00pm
Academy Galleries
1 Queens Wharf
Wellington
Mon 14 Mar 2022, 10:00 am - 5:00pm
Academy Galleries
1 Queens Wharf
Wellington
Tue 15 Mar 2022, 10:00 am - 5:00pm
Academy Galleries
1 Queens Wharf
Wellington
Wed 16 Mar 2022, 10:00 am - 5:00pm
Academy Galleries
1 Queens Wharf
Wellington
Thu 17 Mar 2022, 10:00 am - 5:00pm
Academy Galleries
1 Queens Wharf
Wellington
Fri 18 Mar 2022, 10:00 am - 5:00pm
Academy Galleries
1 Queens Wharf
Wellington
Sat 19 Mar 2022, 10:00 am - 5:00pm
Academy Galleries
1 Queens Wharf
Wellington
Sun 20 Mar 2022, 10:00 am - 5:00pm
Academy Galleries
1 Queens Wharf
Wellington
Mon 21 Mar 2022, 10:00 am - 5:00pm
Academy Galleries
1 Queens Wharf
Wellington
Tue 22 Mar 2022, 10:00 am - 5:00pm
Academy Galleries
1 Queens Wharf
Wellington
Wed 23 Mar 2022, 10:00 am - 5:00pm
Academy Galleries
1 Queens Wharf
Wellington
Thu 24 Mar 2022, 10:00 am - 5:00pm
Academy Galleries
1 Queens Wharf
Wellington
Fri 25 Mar 2022, 10:00 am - 5:00pm
Academy Galleries
1 Queens Wharf
Wellington
Sat 26 Mar 2022, 10:00 am - 5:00pm
Academy Galleries
1 Queens Wharf
Wellington
Sun 27 Mar 2022, 10:00 am - 5:00pm
Academy Galleries
1 Queens Wharf
Wellington
Exhibitions, Visual Arts, Arts Culture, Craft, Free Entry Event, Drawing, Painting, Sculpture
Wheelchair Access, Accessible Toilets
An exhibition that has just opened which was conceived to present works by friends of the Academy – organisations and societies with whom we have an ongoing or historical relationship.
We're pleased to welcome and showcase works by talented members of:-
Watercolour New Zealand
Wellington Art Club
The Learning Connexion
Sarah Brock Art.Space
Inverlochy Art School
Wellington Potters' Association
This group exhibition shows established and emerging artists practicing all styles and genres. There's a wonderful array of paintings, beautiful handcrafted jewellery, cast glass, and an extensive range of pots from the contemporary to the traditional.