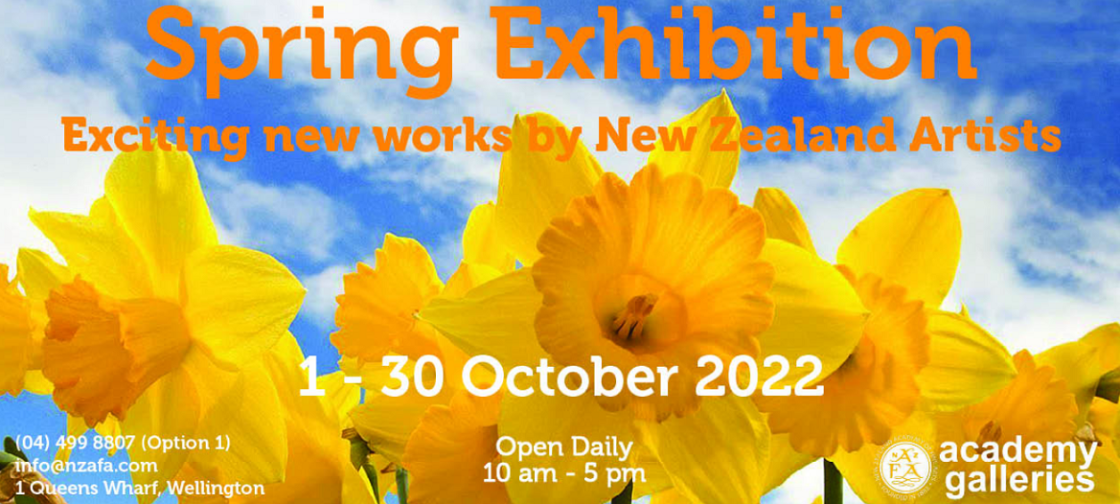 EXHIBITION: Spring 2022
View all Dates
Sat 1 Oct 2022, 10:00 am - 5:00pm
Academy Galleries
1 Queens Wharf
Wellington
Sun 2 Oct 2022, 10:00 am - 5:00pm
Academy Galleries
1 Queens Wharf
Wellington
Mon 3 Oct 2022, 10:00 am - 5:00pm
Academy Galleries
1 Queens Wharf
Wellington
Tue 4 Oct 2022, 10:00 am - 5:00pm
Academy Galleries
1 Queens Wharf
Wellington
Wed 5 Oct 2022, 10:00 am - 5:00pm
Academy Galleries
1 Queens Wharf
Wellington
Thu 6 Oct 2022, 10:00 am - 5:00pm
Academy Galleries
1 Queens Wharf
Wellington
Fri 7 Oct 2022, 10:00 am - 5:00pm
Academy Galleries
1 Queens Wharf
Wellington
Sat 8 Oct 2022, 10:00 am - 5:00pm
Academy Galleries
1 Queens Wharf
Wellington
Sun 9 Oct 2022, 10:00 am - 5:00pm
Academy Galleries
1 Queens Wharf
Wellington
Mon 10 Oct 2022, 10:00 am - 5:00pm
Academy Galleries
1 Queens Wharf
Wellington
Tue 11 Oct 2022, 10:00 am - 5:00pm
Academy Galleries
1 Queens Wharf
Wellington
Wed 12 Oct 2022, 10:00 am - 5:00pm
Academy Galleries
1 Queens Wharf
Wellington
Thu 13 Oct 2022, 10:00 am - 5:00pm
Academy Galleries
1 Queens Wharf
Wellington
Fri 14 Oct 2022, 10:00 am - 5:00pm
Academy Galleries
1 Queens Wharf
Wellington
Sat 15 Oct 2022, 10:00 am - 5:00pm
Academy Galleries
1 Queens Wharf
Wellington
Sun 16 Oct 2022, 10:00 am - 5:00pm
Academy Galleries
1 Queens Wharf
Wellington
Mon 17 Oct 2022, 10:00 am - 5:00pm
Academy Galleries
1 Queens Wharf
Wellington
Tue 18 Oct 2022, 10:00 am - 5:00pm
Academy Galleries
1 Queens Wharf
Wellington
Wed 19 Oct 2022, 10:00 am - 5:00pm
Academy Galleries
1 Queens Wharf
Wellington
Thu 20 Oct 2022, 10:00 am - 5:00pm
Academy Galleries
1 Queens Wharf
Wellington
Fri 21 Oct 2022, 10:00 am - 5:00pm
Academy Galleries
1 Queens Wharf
Wellington
Sat 22 Oct 2022, 10:00 am - 5:00pm
Academy Galleries
1 Queens Wharf
Wellington
Sun 23 Oct 2022, 10:00 am - 5:00pm
Academy Galleries
1 Queens Wharf
Wellington
Mon 24 Oct 2022, 10:00 am - 5:00pm
Academy Galleries
1 Queens Wharf
Wellington
Tue 25 Oct 2022, 10:00 am - 5:00pm
Academy Galleries
1 Queens Wharf
Wellington
Wed 26 Oct 2022, 10:00 am - 5:00pm
Academy Galleries
1 Queens Wharf
Wellington
Thu 27 Oct 2022, 10:00 am - 5:00pm
Academy Galleries
1 Queens Wharf
Wellington
Fri 28 Oct 2022, 10:00 am - 5:00pm
Academy Galleries
1 Queens Wharf
Wellington
Sat 29 Oct 2022, 10:00 am - 5:00pm
Academy Galleries
1 Queens Wharf
Wellington
Sun 30 Oct 2022, 10:00 am - 5:00pm
Academy Galleries
1 Queens Wharf
Wellington
Exhibitions, Visual Arts, Arts Culture, Free Entry Event, Painting, Sculpture, Crafts
Wheelchair Access, Accessible Toilets
Kia ora and welcome to our annual Spring Members' Exhibition.
We have 170 works on show in this exhibition representing the sheer dynamic range of styles and media that our artists are employing. The exhibition looks stunning. It is a fitting testament to the hard work of our dedicated team of helpers and I wish to express the profound gratitude of the Academy to all those who have contributed to bringing it to such splendid fruition.
These include Rebecca Mooney for her invaluable input; Phil Quinn for preparation and hanging; Beryl Buchanan, John Conigrave and the rest of the FOH team who have received the works; Diane Atkinson, with Jenny Martin, Lindsay Blakeley, Helen Cairney, Charlotte Hird, Rebecca, Phoebe Sales and Phillip Coker for preparing and serving the food and wine that are an essential part of the exhibition opening; and Rob Sullivan, for managing the multitude of tasks involved in bringing all this together.
Congratulations to them all for making this wonderful exhibition. Finally, I record my thanks to all of the artists who have submitted the stunning array of works for this exhibition. Thank you to them all, and thank you to you, too, our guests and visitors without whom all of this would be pointless.
Please enjoy,
Wayne Newman FRNSNZ
President, NZAFA
To view an online copy of the Spring Exhibition catalogue, please click here.