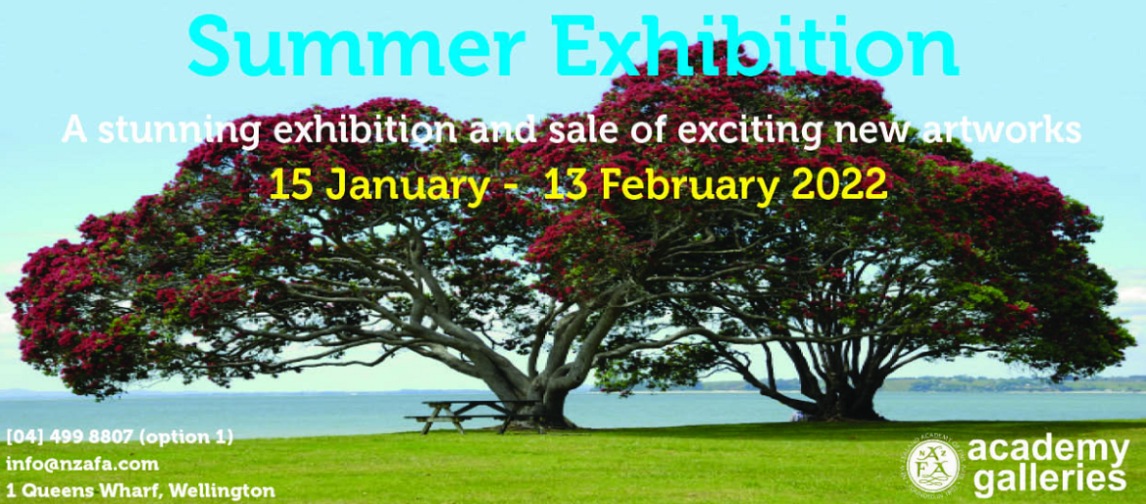 Summer Exhibition 2021 - 2022
View all Dates
Sat 15 Jan 2022, 10:00 am - 5:00pm
Academy Galleries
1 Queens Wharf
Wellington
Sun 16 Jan 2022, 10:00 am - 5:00pm
Academy Galleries
1 Queens Wharf
Wellington
Mon 17 Jan 2022, 10:00 am - 5:00pm
Academy Galleries
1 Queens Wharf
Wellington
Tue 18 Jan 2022, 10:00 am - 5:00pm
Academy Galleries
1 Queens Wharf
Wellington
Wed 19 Jan 2022, 10:00 am - 5:00pm
Academy Galleries
1 Queens Wharf
Wellington
Thu 20 Jan 2022, 10:00 am - 5:00pm
Academy Galleries
1 Queens Wharf
Wellington
Fri 21 Jan 2022, 10:00 am - 5:00pm
Academy Galleries
1 Queens Wharf
Wellington
Sat 22 Jan 2022, 10:00 am - 5:00pm
Academy Galleries
1 Queens Wharf
Wellington
Sun 23 Jan 2022, 10:00 am - 5:00pm
Academy Galleries
1 Queens Wharf
Wellington
Mon 24 Jan 2022, 10:00 am - 5:00pm
Academy Galleries
1 Queens Wharf
Wellington
Tue 25 Jan 2022, 10:00 am - 5:00pm
Academy Galleries
1 Queens Wharf
Wellington
Wed 26 Jan 2022, 10:00 am - 5:00pm
Academy Galleries
1 Queens Wharf
Wellington
Thu 27 Jan 2022, 10:00 am - 5:00pm
Academy Galleries
1 Queens Wharf
Wellington
Fri 28 Jan 2022, 10:00 am - 5:00pm
Academy Galleries
1 Queens Wharf
Wellington
Sat 29 Jan 2022, 10:00 am - 5:00pm
Academy Galleries
1 Queens Wharf
Wellington
Sun 30 Jan 2022, 10:00 am - 5:00pm
Academy Galleries
1 Queens Wharf
Wellington
Mon 31 Jan 2022, 10:00 am - 5:00pm
Academy Galleries
1 Queens Wharf
Wellington
Tue 1 Feb 2022, 10:00 am - 5:00pm
Academy Galleries
1 Queens Wharf
Wellington
Wed 2 Feb 2022, 10:00 am - 5:00pm
Academy Galleries
1 Queens Wharf
Wellington
Thu 3 Feb 2022, 10:00 am - 5:00pm
Academy Galleries
1 Queens Wharf
Wellington
Fri 4 Feb 2022, 10:00 am - 5:00pm
Academy Galleries
1 Queens Wharf
Wellington
Sat 5 Feb 2022, 10:00 am - 5:00pm
Academy Galleries
1 Queens Wharf
Wellington
Sun 6 Feb 2022, 10:00 am - 5:00pm
Academy Galleries
1 Queens Wharf
Wellington
Mon 7 Feb 2022, 10:00 am - 5:00pm
Academy Galleries
1 Queens Wharf
Wellington
Tue 8 Feb 2022, 10:00 am - 5:00pm
Academy Galleries
1 Queens Wharf
Wellington
Wed 9 Feb 2022, 10:00 am - 5:00pm
Academy Galleries
1 Queens Wharf
Wellington
Thu 10 Feb 2022, 10:00 am - 5:00pm
Academy Galleries
1 Queens Wharf
Wellington
Fri 11 Feb 2022, 10:00 am - 5:00pm
Academy Galleries
1 Queens Wharf
Wellington
Sat 12 Feb 2022, 10:00 am - 5:00pm
Academy Galleries
1 Queens Wharf
Wellington
Sun 13 Feb 2022, 10:00 am - 5:00pm
Academy Galleries
1 Queens Wharf
Wellington
Exhibitions, Visual Arts, Arts Culture, Free Entry Event, Painting, Drawing
Wheelchair Access, Accessible Toilets
This first exhibition of 2022 has mixed emotions for me. After another year of disruptions and uncertainty, its wonderful to see the gallery once again bursting with colour and creativity.
I want to acknowledge the amazing and significant contribution that Life member Suzanne Herschell has made over the past 5 years. Suzanne has been our "honourary curator" for members' shows, and has provided me with an amazing education and development opportunity working with her mentoring and guidance. Always supported by Ron, Suzanne has tirelessly delivered show after show of wonderful members' art, as well as represented the Academy as curator of the Parkin Drawing Prize. She is now spending more time at home with Ron, and is only ever a phone call away - my heartfelt thanks Suzanne!
So this has created an opportunity - artist members of the Exhibitions group Emily Harris and Rebecca Mooney put themselves forward to co-curate this show, an offer I readily supported. Below are Emily and Rebecca's comments on the show - well done.
Summer brings warmth to the region and in turn creates opportunities for outdoor adventures, with people often drawn to water activities. This is reflected in the abundance of paintings of water on show, along with flowers, birds and boats.
As members of the Exhibitions team who install Academy exhibitions, we embraced the invitation to collaborate in the curation of the Summer Exhibition. It was an adventure and a privilege to group these works. Thank you to all the artists who put work forward; there are many outstanding artworks in this show.
For Curator's Award we selected Karen Reid's She Talks to Angels. The artists use of vibrant colour and balance of pattern was engaging. The work drawing us in and enticing feelings of a bright summers day.
Our Merit Award goes to Rick Allender for Apérture. In the highly skilled medium of marquetry we felt the artist showed great proficiency, originality, and a captivating contemporary design.
The President's Award, selected by past President Jenny Shearer, is presented to Roger Daniell for "Sculpted by Wind" and a Merit Award for Lee Robinson 'Row of Vintage Oilers'.
And finally for an additional Merit Award I selected "High Noon - Mangaweka" by Bill MacCormick - I know this scene very well, and this work transports me back to a series of past "adventures"
Rob Sullivan
Exhibitions
January 2022